Students and Trainees
POSTDOC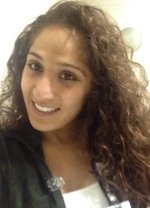 Sadia Ghani MD MBA
Sadia Dr. Ghani obtained her MD from Medical University of the Americas and completed her residency training in Psychiatry at the University of Arizona. She also completed a certification with the University of Arizona Integrative Medicine distinctive track.  She obtained her M.B.A. in Business Administration while studying at Davenport University in Grand Rapids, MI. Upon graduating from her residency training, she joined as a postgraduate research associate with the goal of becoming a physician-scientist. Her professional interests include neuroscience/neuropsychiatry, diet and nutrition, sleep medicine and behavioral health. Her interest in research focuses on reducing health disparities and improving mental health.  Her personal interests include spending time with friends and family, traveling, cooking, painting, yoga and zumba.
---
GRADUATE STUDENTS
Andrew Tubbs
Andrew is an MD/PhD student currently completing the PhD portion of his training in the SHRP. Broadly speaking, Andrew is interested in the development, maintenance, and treatment of mental illness. Since sleep often features prominently in mental illness, Andrew's focus in the SHRP is on how sleep acts as a risk factor for mental illness development and disease course, as well as how therapies targeting sleep may improve mental illness symptomology. Ultimately, Andrew hopes to complete his residency in Psychiatry, fellow in Child and Adolescent Psychiatry, and work as a clinical research physician at an academic medical center. Outside of the lab, Andrew enjoys cooking, writing short fiction, and discussing theology.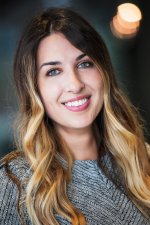 Kat Kennedy
Kat is pursuing a PhD in the Physiological Sciences Graduate Interdisciplinary Program. She is currently helping with various projects in the lab and eager to delve deeper into understanding the physiological mechanisms within the gut-brain axis that are impacted as our sleep continues to be affected by our changing environment. A freelance writer and trained microbiologist, Kat is passionate about scientific communication and fermented foods.
Wailuddin "Suhaib" Khader
Waliuddin (Suhaib) is a graduate student pursuing his PhD in Clinical Psychology at the University of Arizona. In general, his research interests encompass sleep, depression and addiction. More specifically, he is interested in studying the incidence of insomnia and its different subtypes and their association with depression and alcoholism. Suhaib is also interested in understanding how different treatment modalities for insomnia can impact psychological disorders. In the future, he hopes to be a hybrid clinician researcher where part of his time will be spent providing treatment and the rest will be spent conducting research. In his spare time, he enjoys playing tennis, reading books, and tinkering around in Adobe Photoshop/Illustrator. His co-mentors are Dr. Grandner and Dr. Fabian Fernandez.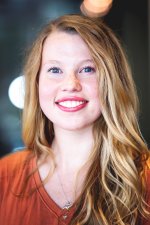 Brooke Mason
Brooke Mason is a Masters student in the Graduate Interdisciplinary Program in Physiological Sciences. She obtained her undergraduate degree from Alma College with a major in Neuroscience and concentrations in Integrative Physiology & Health Sciences as well as Chemistry. She is currently working in the lab on multiple projects focused on physiologic relationships between sleep and health.
---
UNDERGRADUATE STUDENTS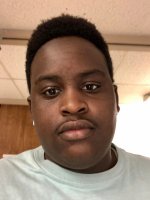 Harun Abdi
Harun Abdi is an undergraduate at the University of Arizona pursuing a Bachelor's of Science degree with a major in Psychological Science. Harun is interested in how sleep affects an athlete's performance and how sleep affects the eyes.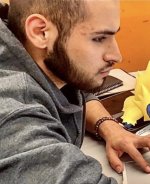 Christopher Acosta-Gutierrez
Christopher is a psychological science (B.S.) major finishing up his undergraduate work during the Spring of 2020. At this time he is working as a Behavioral Health Technician at a children's behavioral health clinic while taking a year to build his resume and research CV. Christopher aims to apply to a social-clinical psychology oriented Ph.D. program by the Fall of 2021.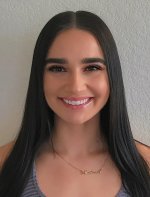 Madison Barker
madisonjbarker@email.arizona.edu
Madison is currently a undergraduate student pursuing a bachelor of science in Nutritional Sciences with an emphasis in microbiology. She aspires to pursue a career in medicine that not only allows her to diagnose and prescribe medication but encompasses the holistic perspective of the patient. She believes that nutrition, physical exercise and sleep play a huge role in an individual's health. By working in this lab she would like to expand her knowledge on the effects of sleep in order to incorporate it into future practice.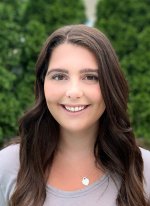 AnnaLaura Bombarda
AnnaLaura is a senior pursuing a B.S. in Psychology with a double minor in Biology and Art History. Her interest lies with sleep and the effects on our general health. After graduation she plans on attending graduate school and eventually practice Neuropsychology. Outside of school and research she enjoys volunteering for the Elder Rehab Program and being the Gala Chair for her sorority, Alpha Delta Pi.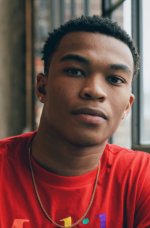 Miles Clay
Miles Clay, from Atlanta, GA, is an experienced Sports Specialist with a demonstrated history of working in the recreational facilities and services industry. Skilled in Research, Public Relations, Ethics, Communication, and Problem Solving. Strong in community and social services with interest in Sports Psychology, Sports Public Relations, Health Science, Behavioral Science, and Exercise Science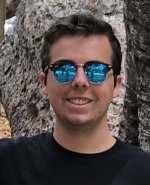 Cameron Holbert
Cameron is a Junior at the University of Arizona. He was born and raised in the Bay Area. I enjoy playing video games, spendting time with friends, and hiking.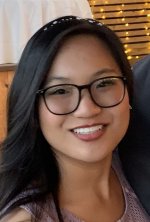 Alexa Gozar
Alexa is currently a junior in the Honors College at the University of Arizona. She is pursuing a Bachelor of Science degree in Psychological Science. Alexa is primarily interested in the treatment of mental illnesses and plans on attending graduate school to become a therapist. In her spare time, she enjoys singing, playing the piano, drawing, and crocheting.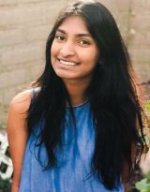 Anjalee Jajoo
anjaleejajoo@email.arizona.edu
Anjalee is currently a junior in the Honors College at the University of Arizona. Anjalee is currently pursuing a major in Neuroscience and Cognitive Science with a minor in Spanish. By working in the lab, Anjalee hopes to gain more exposure to the medical field and further her interests in medicine. Anjalee hopes to pursue a career in the medical field as a physician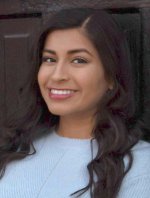 Ashna Kapoor
Ashna is a Junior at the U of A. She is majoring in Psychology with a minor and Spanish, and is also fulfilling pre-requisites for medical school. In the future, she hopes to be a doctor and work with the brain in some capacity. She is also a part of many health related clubs on campus, and enjoys boxing and hanging out with friends in her free time.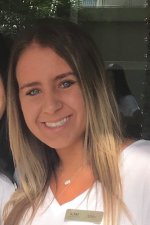 Abby Mignanelli
Lauren is an undergraduate in the Honors College at the University of Arizona, currently pursuing a B.S. in Psychological Sciences. After graduation, she plans to attend graduate school and continue to pursue sleep research. Outside of school and research, she also enjoys volunteering and spreading mental health awareness through the club Active Minds.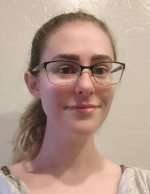 Lauren Nail
Abby is currently a sophomore working towards her bachelor of science in Biochemistry and Physiology. She hopes to continue on to medical school to earn an MD. Besides doing research and studying, Abby enjoys Volunteering at Phoenix Children's Hospital and participating in philanthropic events for her sorority, Kappa Alpha Theta.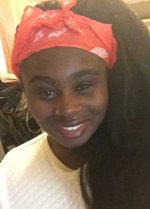 Chidera Onyeonwu
chideraonyeonwu@email.arizona.edu
Chidera is currently a junior at the University of Arizona studying French and Physiology. She is interested in seeing the long term affects of sleep, or the lack thereof, on the brain and bodily function. Her long term goal is to become an OB/GYN and build a hospital in Nigeria, in addition to teaching children English in West African countries. In her free time, she likes to cook, spend time with loved ones, and play basketball.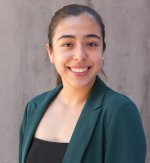 Gemma Parra
Gemma is a senior at the University of Arizona's Honors college majoring in Public Health with a global health emphasis and minoring in Spanish. She workss with the NOCHES staff in her hometown of Nogales, AZ and is interested in researching sociocultural factors that impact health outcomes. After graduation, she plans on pursuing a PhD in Epidemiology to further investigate Latino health disparities.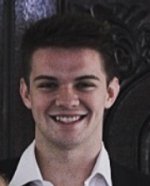 Bryce Piro
Bryce is a 4th year Psychological sciences and pre-med student at the University of Arizona. He grew up in Las Vegas, Nevada and now splits time between Tucson and Phoenix. he has previously worked as a RA and intern at "Systems Oncology" in Scottsdale, AZ. He played one year of college baseball at The University of Colorado, Colorado Springs and currently serves on the executive board of his fraternity.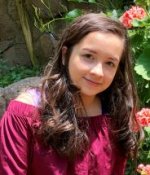 Sydney Phan
Sydney is a sophomore at the University of Arizona in the Honors College and the College of Science. She is pursuing a B.S. in Psychological sciences with the goal of eventually going to medical school. She is originally from Missouri, and in her free time, she like to travel!
Thea Ramsey
Thea is a senior at the University of Arizona pursuing a B.S. in Neuroscience and Cognitive Science with an emphasis on Biological Neuroscience. She is primarily interested in the relationship between sleep health and neurological and cognitive function. After graduation, Thea plans to enter the healthcare and research field in order to serve others through neuroscience. Outside of academics, she competes in cross country and track for the University of Arizona and enjoys spending time outdoors.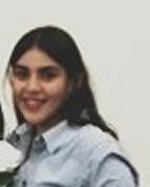 Kareli Mota Villalobos
Kareli is a transfer student from Mexico. This is her second year living in the States. She is a Psychology major, with a minor in
LAB ALUMNI
Barnard, Sophia (2017-2018) [High School Student]
Bliznak, Victoria (2017-2018) [Undergraduate]
Carrazco, Nancy (2015-2016)
Charest, Jonathan (2018) [Visiting Graduate Student]
Davis, Benjamin (2015-2016) [Undergraduate]
Djurich, Sara (2018-2019) [Graduate Student]
Fisseha, Ephrat (2015-2017) [Undergraduate]
Fakhimi, Shyon (2015-2016) [Undergraduate]
Featherston, Breanna (2017-2019) [Undergraduate]
Fisseha, Ephrat (2015-2017) (Honors Thesis) [Undergraduate]
Forbush, Sierra (2015-2017) (Honors Thesis) [Undergraduate]
Fourte, D. Alex (2018-2019) [Undergraduate]
Gautam, Khem (2018) [High School Student]
Graham, Patrick (2015-2016) [Undergraduate]
Granados, Karla (2015-2017) [Undergraduate]
Griffin, Nakayla (2017-2019) [Undergraduate]
Guendulayn, Zaira (2018) [High School Student]
Haghighi, Ariana (2016-2018) [Undergraduate]
Hall, Christine (2015-2017) (Honors Thesis) [Undergraduate]
Jaszewski, Angelica (2015-2017) [Undergraduate]
Ji, Xiaowen (2017) [Visiting Graduate Student]
Kukafka, Laurel (2017-2018) [Undergraduate]
Liang, Olivia (2016-2019) [Undergraduate]
Liu, Serena (2017-2019) [Undergraduate]
Mendoza, Paola (2016) [Undergraduate]
Morrison, Jac'Queline (2017) [High School Student]
Ocaño, Demi (2015-2017) [Undergraduate]
Okuagu, Ashley (2015-2018) (Honors Thesis) [Undergraduate]
Olivier, Kayla (2015-2019) [Undergraduate]
Paine, Kristen (2015-2016) [Undergraduate]
Pham, Bruce (2017-2019) [Undergraduate]
Poling, Kristi (2016-2018) (Honors Thesis) [Undergraduate]
Quiroz, Hunter (2018-2019) [Undergraduate]
Rhee, Joshua (2015-2016) [Undergraduate]
Saccone, Jeffrey (2015-2016) [Undergraduate]
Sanchez, Christopher (2017-2019) [Undergraduate]
Sandino, Michael (2017-2018) [Undergraduate]
Tabit, Lindsay (2015) [Undergraduate]
Tang, Ron (2017-2019) [Undergraduate]
Till, Kristin (2016-2017) (Honors Thesis) [Undergraduate]
Warlick, Chloe (2015-2018) (Honors Thesis) [Undergraduate]
Wills, Chloe (2017-2019) [Undergraduate]
Yang, Robert (2015-2018) [Undergraduate]